Dr. Samuel H. Kimball, OD, MS, FAAO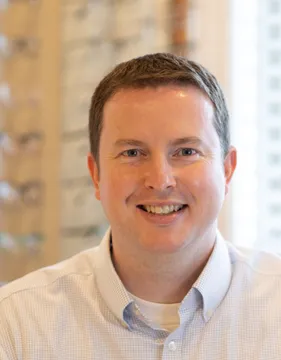 Dr. Kimball grew up in Pleasant Grove, UT. After High School he served a two-year mission for his church in Quebec, Canada. Upon returning he attended Brigham Young University where he met his wife Christine. After receiving a bachelors of science in 2005, Dr. Kimball was accepted into the Ohio State University College of Optometry program and graduated with his Doctor of Optometry and Masters of Science degrees in 2009.
He is a member of the Oregon Optometric Physicians Association (OOPA) and American Optometric Association (AOA), and is a Fellow of the American Academy of Optometry (FAAO). He is past president of the La Grande Lions Club and serves on several local boards. He is very involved in church activities and is co-founder of a local charitable eye clinic.
Dr. Kimball has 5 children. Outside of optometry he enjoys sports, especially basketball, and the outdoors.
---
Dr. David K. Glabe, OD, MS, FAAO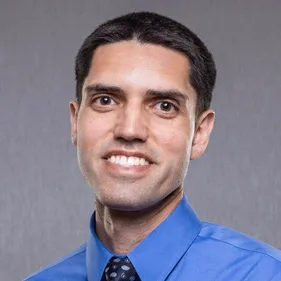 Dr. Glabe graduated with honors from Brigham Young University after serving a 2-year mission in Nevada for his church. He was valedictorian of his Doctor of Optometry program at Pacific University in Oregon, where he also completed an MS in Vision Science degree. He then received advanced clinical training at the Kansas City VA Medical Center in ocular disease and low vision rehabilitation. He has practiced in seven states across the country.
Dr. Glabe has been involved in laboratory and clinical research in macular degeneration and specialized ophthalmic imaging and enjoys presenting at academic conferences. He is the recipient of multiple awards for his academic and clinical achievements.
Dr. Glabe is a fellow of the American Academy of Optometry and a member of the American Optometric Association and Oregon Optometric Physician's Association, where he serves on the Advocacy Committee. He has served on the corporate Advisory Committee to VSP Vision since 2021. Dr. Glabe is involved in his local community as a city councilor and a member of the La Grande Lions Club, as well as a co-founder of the Community Eye Clinic, which offers free eye care services for Union county residents under financial hardship. Dr. Glabe and his wife have five children and actively volunteer in their church. He enjoys spending time with family, backpacking, birding, flying, and photography.
---
Dr. Jamison Soupir, OD
Dr. Soupir is Eastern Oregon's first pediatric eye care specialist, with additional expertise in comprehensive eye care, vision therapy and neuro-rehabilitative optometry. He also has extensive experience in low vision therapy. He completed his undergraduate degrees in chemistry and German studies at Pacific University in Forest Grove, OR prior to attending professional school at Southern California College of Optometry. He subsequently completed advanced training in pediatrics and vision therapy at Pacific University College of Optometry. He joined La Grande Family Eye Care in July of 2018.
Dr. Soupir is a member of the Oregon Optometric Physicians Association, American Optometric Association, College of Optometrists in Vision Development, and American Academy of Optometry. He is currently seeking fellowship status in the Academy.
Dr. Soupir served a 2-year mission in Germany following high school and is fluent in German. He and his wife both grew up in Prairie City, Oregon and have three children. They enjoy hiking, biking, camping, and family activities.
---
Carmen, CPOA - Certified Optician, Office Manager
Carmen's friendliness, patience, and eye for detail ensure that our patients experience the best in care. Carmen is certified as an optician and currently carries CPO and CPOA certifications. Carmen grew up in La Grande and graduated from La Grande High School in 1984. She attended college in Salem before returning to La Grande to pursue her professional career.
Carmen has worked as an optician and clinic office manager for over 30 years, making her one of the most experienced opticians in eastern Oregon. Carmen is a second generation optician, and her daughter has also previously been a member of our staff. If there is a problem with the fit or function of your eyeglasses, she can help solve it!
---
Sherri, CPO - Certified Optician, Billing Specialist
Warm and optimistic, Sherri is always eager to assist with the selection and fitting of both glasses and contact lenses. Sherri is a native of the Grande Ronde Valley, growing up in nearby Union. She enjoys taking advantage of the outdoors with her husband, 2 sons, and grandchildren, and is extensively involved in her local church.
Sherri previously worked with children as a daycare provider for 18 years, as an ambulance dispatcher, and as an X-ray technician. She is now an experienced and valued member of the La Grande Family Eye Care team as a certified optician for the past several years.
---
JoAnna - Patient Care Coordinator
JoAnna's friendly smile, professionalism and caring personality help ensure that our patients feel comfortable when they visit our clinic. Prior to becoming a valued patient care coordinator, JoAnna spent many years as a daycare provider.
JoAnna and her husband Mark have lived in the Grande Ronde Valley for many years. They have 3 adult children and 2 grandchildren so far.
---
Sandi - Optometric Assistant
(Picture and Bio soon!)

---
Tiara - Optical Laboratory Manager
Tiara Grew up in San Diego California, and moved to Eastern Oregon in 2015. She has 4 beautiful children and spends most of her free time with them. Her hobbies include playing the guitar and piano and art. She loves to travel and listen to music.

---
Pamela - Patient Care Coordinator
Pam's calm demeanor and quick smile are memorable. She works tirelessly to ensure that our patients are seen in a timely fashion and helps coordinate both routine and emergency care for our clinic.
Pam grew up in Portland, OR and has lived in La Grande since 2013. She is a devoted mother to 3 children and welcomed her first grandchild this year. She enjoys reading, hiking, spending time with family, and the culinary arts. She is a stained glass artist and loves to travel.
---
Dana, ABO, CPO - Certified Optician, Certified Paraoptometric Assistant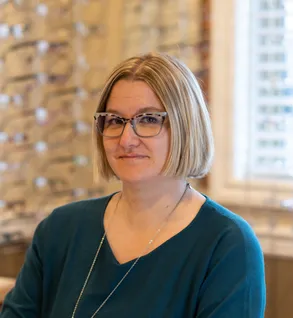 Dana brings a warm, friendly smile to our office and a wealth of experience as a licensed optician and optometric assistant for more than a decade.
Dana loves what she does, and her passion for helping patients is evident to all. Dana is proud of her personal collection of eyeglasses and is an expert at helping you find the perfect look and fit for your eyewear.
---
Laura - Optometric Assistant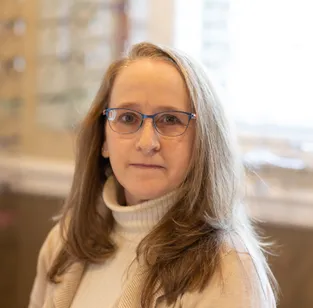 When you meet Laura, you'll appreciate her friendliness and attention to detail. Laura and her family have lived in many states but have called the Grande Ronde Valley home for the past several years. Laura brings experience from a variety of prior positions to our office, and her calm and professional demeanor helps our patients feel at home while visiting our clinic.
---
Melinda - Optometric Assistant
Melinda's cheerful demeanor helps our patients feel at home during their time in our clinic.
Melinda has lived in La Grande since 1997 and is a graduate of La Grande High School. She and her husband have one son. They enjoy going for walks and hiking in the nearby area. Melinda is an avid reader.
---